Online Ads Revenue ? Bullshit !
Par Julien Vehent le samedi, juin 2 2012, 19:08 - General - Lien permanent
For many years now I have been wondering if I should put ads on the Linuxwall's Wiki. Last month, I ran an experiment, created a google adsense account, and gave it a shot.
This website doesn't get crazy traffic. Roughly ~7,500 pages views per month, and almost 5,000 unique visitors. Its goal is not to generate traffic, but to serve high quality content: Articles that I and a few friends write on Linux and Open Source technology. We have some good stuff available there, like a documentation of the QoS in Linux, Oracle on Centos, Nginx performances tips, Nagios, etc etc... I'm always happy to see more people reaching those pages, because we spend a lot of times researching and writing them, and we publish it under Creative Common.
Below is the monthly visits graph, generated by piwik.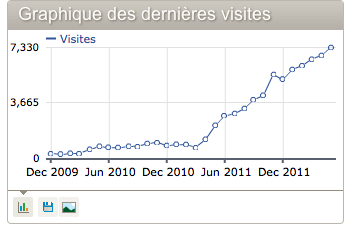 So Why do I call bullshit on Adsense ? Because, out of those 5,000 unique visitors who have viewed the ads, I receive from Google the amazing amount of... $1.30. That one point three dollars of revenue for one month worth of ads.
The reason ? Out of those same 5,000 people and 7,500 page views. Only 4 have clicked on the ad ! That's a conversion ratio of 0.00053% !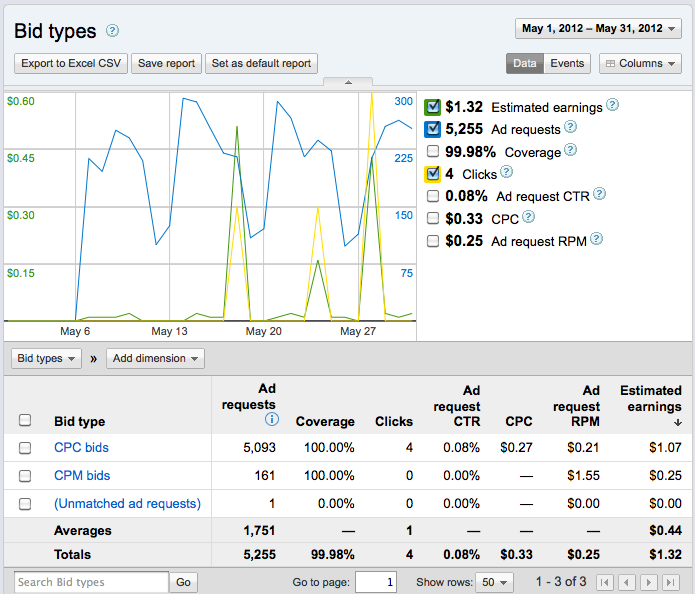 I have not removed the ad yet, so you can see it when clicking on the link. it's a 728x90 Text/image, the default recommended by Google. I put it on the best possible location: on top of my articles.
I'll remove the ad in a few days. Quite frankly, I don't care about the revenue generated by Adsense. I have a good job at AWeber, and it pays the bills. But when I started this experiment, I somehow imagined that I would receive $40/50 per month from Adsense. Something that could pay for the server I'm using, and would justify adding that big ugly banner on top of my wiki. It doesn't. I'm removing it.
I have a feeling that this whole ads business became so huge, that nobody is ever looking or clicking on them anymore. Advertisers will keep pushing for more ads and thus more ways to track people to better target those ads. This stuff will probably collapse when businesses realize how little they get from online ads. General Motors did. Will we see a major ads bubble collapse in a few years ? I don't know. But I'm happy to stay away from it.